WHEN YOU NEED THE BEST
WILLIE WASHER HAS IT ALL FOR YOU
SEARCH FLAT WASHERS
Browse Flat, Spring, & Fender Washers
Receive a Quote For Flat Washers & Other Components
Request a quote for products such as flat washers, laser cut parts, wave spring washers, spacers, fender washers, machined parts, cup washers, & more
Flat Washers
Flat washers are engineered to spread the weight of a nut or fastener over a large area. This type of washer will prevent damage to soft surfaces. In addition, a flat washer can be utilized to cover a hole that is too large. We offer a large catalog of flat washers that are available in materials such as stainless steel, brass, nylon, copper, and bronze.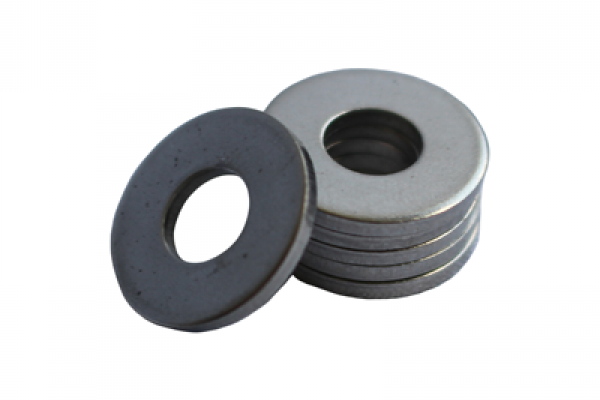 Fender Washers
Fender washers feature a large outside diameter that is utilized to help distribute forces that are created when you integrate a nut or bolt. This type of washer is used in the auto and plumbing industries to prevent damage to thin materials. The wide diameter of a fender washer on the exterior of the hole is designed to alleviate force over a larger area when you connect bolts. We offer an expansive selection of fender washers in materials such as low carbon steel and stainless steel.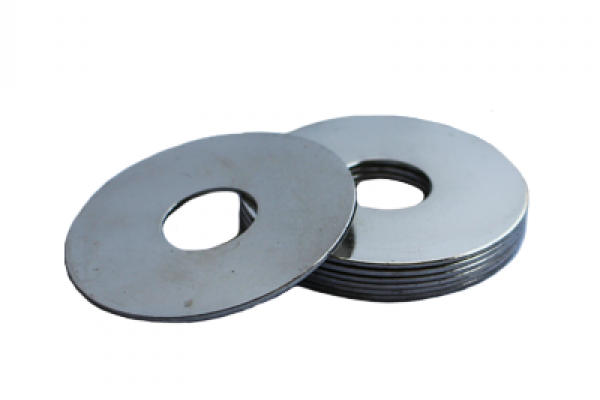 Belleville Washers
Belleville washers are designed to maintain a large amount of force with minimal deviation. This type of washer is utilized to reduce thermal expansion and vibration in commercial facilities. Belleville washers are helpful in applications with limited space and heavy loads. The washers in our catalog feature a high spring rate to meet your requirements. Our washers are engineered to create secure connections. We offer belleville washers in materials such as spring steel, bronze, low carbon steel, brass, and stainless steel.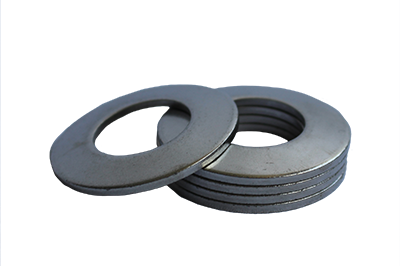 Thrust Washers
Thrust washers are installed between a moving surface and a stagnant component. This type of washer is designed to assist the axial load on a shaft. In addition, thrust washers are utilized to prevent motion on a shaft. The washers are engineered to be used in motors, pumps, and axle assemblies. We offer a large catalog of thrust washers in materials such as stainless steel, nylon, bronze, and PTFE. The punch presses at our facility are designed to produce a maximum of 400 tons of parts and components.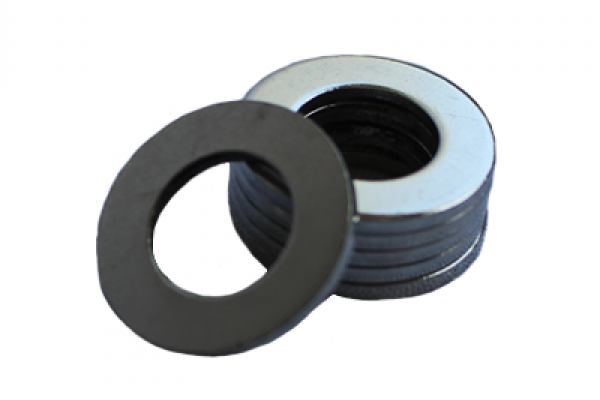 Wave Spring Washers
We offer a large selection of wave spring washers to commercial facilities and technicians. This type of washer features arched sections that are designed to process small and large loads. Wave washers are available with 1 to 4 waves depending on the requirements of your application. However, we can utilize our CNC equipment to produce a spring washer with 5 or more waves. We offer wave spring and flat washers in finishes such as spring steel, beryllium copper, bronze, and stainless steel.
Each of the wave spring washers in our catalog is engineered with consistent arched compartments to ensure the weight is balanced. The density of a spring washer can be decreased by increasing the total amount of waves. To receive assistance with finding a spring or flat washer, give our team a call by phone at (847) 956-1344. We will help you find a part with a correct inner and outer diameter to meet the specifications of your project.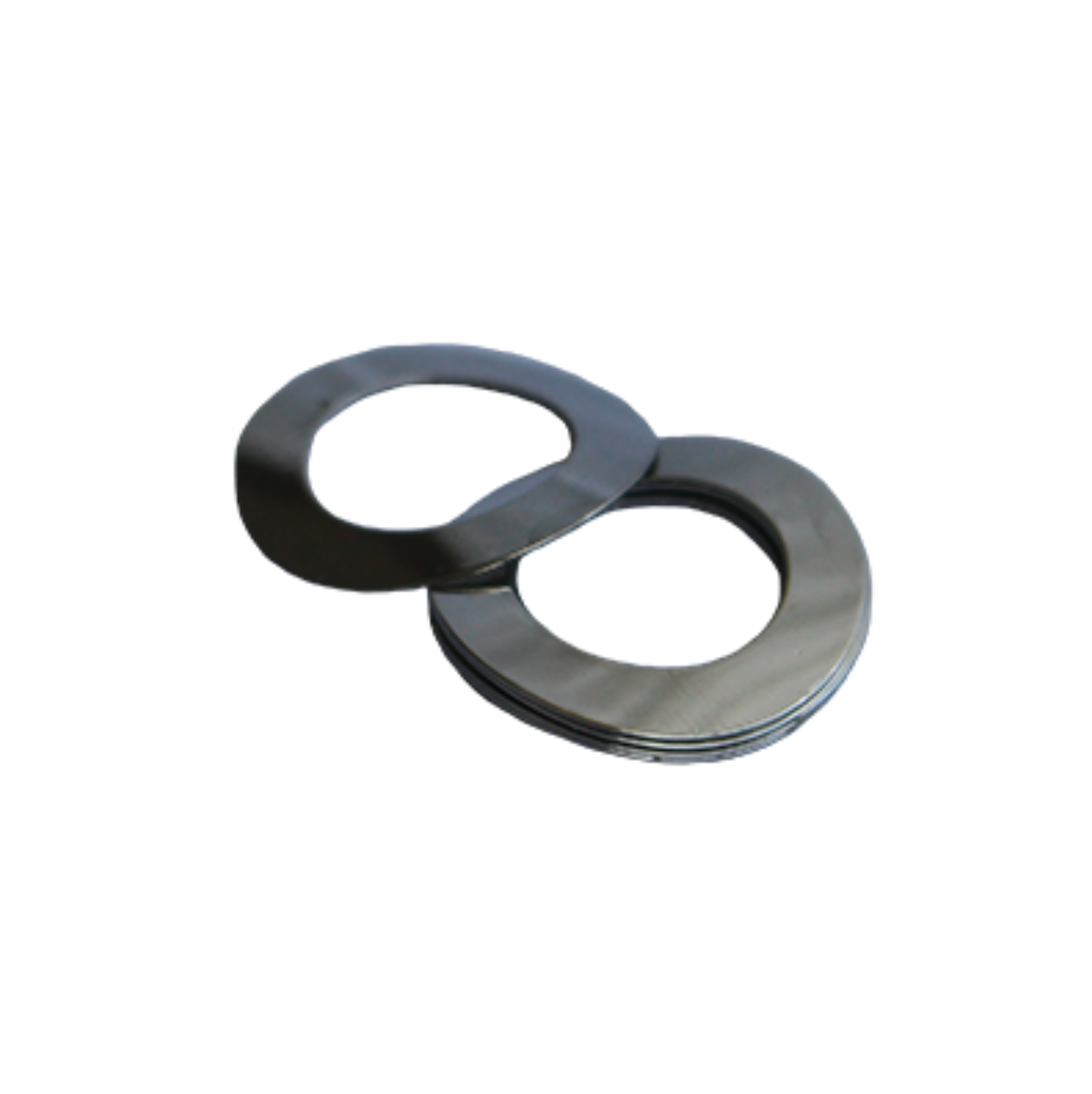 Tab Washers
Tab washers are engineered to inhibit the movement of bolts and nuts in applications such as construction, maintenance, and assembly. The clip of a tab washer can be adjusted to secure the nut in a single location. This type of washer is designed to be utilized in environments with high temperatures that feature fluctuation and torque.
Tab washers are equipped with one or more interior and exterior inserts to lock a nut in a location near the bolt. We offer tab and flat washers in a variety of materials such as stainless steel, monel, low carbon steel, aluminum, brass, and spring steel. A tab washer can be integrated with a flat washer to balance the weight and prevent damage to the assembly that the fastener is attached to. If you need help locating a tab washer, give our staff a call to receive support.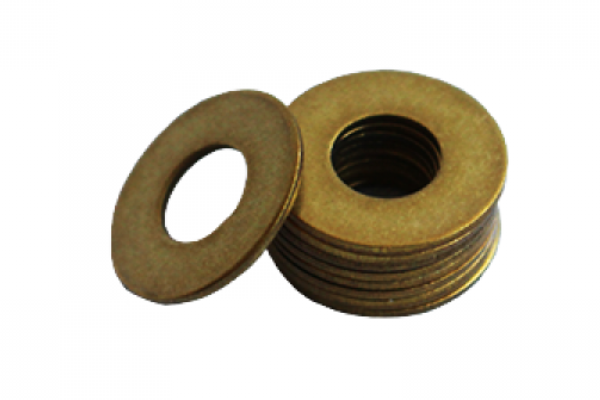 LASER CUTTING
Willie Washer's lasers use the latest technology to produce special parts and prototypes at competitive prices. Check out our capabilities for the precision cut parts you need.
Spacers and Machined Parts
Willie Washer utilizes CNC turning centers to supply machined parts and spacers from short to medium runs. We can easily cut parts with special features quickly from most materials.
Willie Washer is a manufacturer of special washers, stampings, and machined parts. Our 230,000 square foot manufacturing facility in Elk Grove Village, Illinois houses over 100 staff members that specialize at developing affordable and premium special washers. View our selection of flat, tab, spring, cup, Belleville, shim, fender, and special washers. We are the best and most reliable provider of flat washers, laser cut parts, and special washers in the fastener industry. Our large facility houses over 45 punch presses that feature a stamping capacity of up to 400 tons. All products are engineered with premium materials to ensure a long-lasting solution that aligns with your project specifications. We offer flat and special washers in materials such as stainless steel, Bronze, Brass, Aluminum, Nylon, Copper, and Acetal. Willie Washer recommends choosing a flat washer in a material that meets the specifications of your project or application. We also provide exceptional customer and product support services. Contact a specialist with questions about our products or services.